---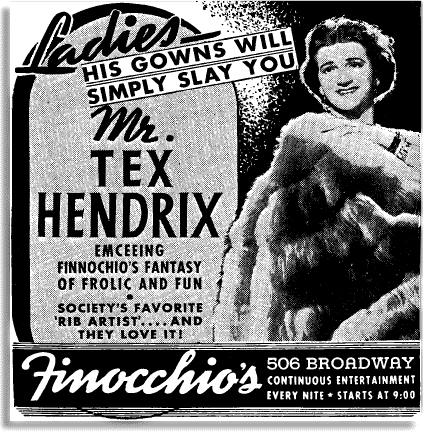 ---
Joe Finnochio opened his famed San Francisco nightspot at 506 Broadway after a customer, drinking in his father's speakeasy, performed an imitation of the legendary Sophie Tucker. This gave Joe the idea of a nightclub with men performing with all the glitter, sophistication and glamour of sophisticated women. He opened the club June 15, 1936.
There was little trouble at the club over the years, though military authorities declared Finnochio's "off limits" for selling liquor to WWII military personnel outside of authorized hours. That temporary sanction was lifted New Year's Eve 1943 after Joe Finnochio and other bar owners signed an agreement to limit liquor sales to military personnel to between 5 p.m and midnight. Beer could, however, be sold between 10 a.m. and midnight.
Finnochio's was a favorite tourist spot in San Francisco from the 1930s to the 1990s, but as cross-dressing became less unusual, the crowds dwindled.
The nightclub was the long-time venue of LaVerne Cummings, and Lucean Phelps, the legendary "Male Sophie Tucker," who appeared there for 27 years.
Eve Finnochio, widow of the founder, decided to close the club in late 1999 because of a major rent increase and dwindling attendence. The club closed November 27, 1999. Beat poet Lawrence Ferlinghetti's only comment upon hearing of the closure was, "What a drag."
---
Return to the top of the page.