Olson Wants All Japs Moved
Tells Committee Some Might Be Returned
By United Press
---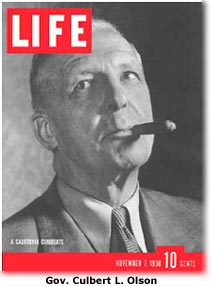 LOS ANGELES, March 6.—Governor Olson told the Tolan congressional committee today he favored wholesale evacuation of Japanese from coastal California, but that subsequent classification might permit certain individuals to return.

Governor Olson was the first witness before the House committee, headed by Rep. John H. Tolan (D., Cal.) The committee is studying problems connected with emergency migration, with particular emphasis on removal of alien Japanese from strategic areas.

The governor said he thought a distinction should be made in the handling of German and Italian aliens as compared with the Japanese.

"Because of the extreme difficulty in distinguishing between loyal Japanese-Americans, and there are many who are loyal to this country, and those other Japanese whose loyalty is to the Mikado. I believe in the wholesale evacuation of the Japanese people from coastal California," Governor Olson said.

Mayor Fletcher Bowron of Los Angeles, following Governor Olson as a witness, criticized the wartime work of the FBI and said he thought its duties more properly could be performed by the military authorities.

"It is a wonderful peacetime organization but is not adequate in wartime," Mayor Bowron said. "There has not been sufficient co-operation between the FBI and Army and Navy intelligence. The FBI in opinion is not the proper agency to handle the military angles involved in wartime problems.
---
The San Francisco News
March 6, 1942