---
Behind the News With Arthur Caylor
---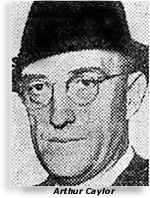 The slightly unconstitutional treatment being given citizens of Japanese ancestry has finally reached the American Civil Liberties Union, my agents report, but from a source which caused Director Ernest Besig to fall out of his chair in a dead faint— the Filipino Community of San Francisco, Inc., Miguel Ignacio, secretary.
Until that moment it had never occurred to Besig— or anybody else much— that there might be Japanese women living with Filipino husbands in this combat zone. Well, Ignacio knows of four Filipino-Japanese familes right here—at least one with children— and thinks there must be many more in the state.
These women, according to Ignacio, are no longer Japanese in the sight of Hirohito or any sub-Hirohitos. Their plight in any regular Japanese community might not be happy to contemplate. As for the children, their legal status is something to make a Philadelphia lawyer feel that he is lost in an impenetrable forest.
Happily, Besig was not asked to bring a habeas corpus action on behalf of these women who are not Japanese and not quite American. For my men have it on high authority that the question whether evacuees are entitled to habeas corpus is one about which everybody will be more cheerful if it doesn't come up.
What the Filipino Community of San Francisco, Inc., is asking is a small but separate location for Japanese wives of Filipino men. That's something Besig can suggest to authorities without getting his head in a sling— clear down to the heels.
---
The San Francisco News
April 18, 1942
---
Go to the Japanese Internment page.

Return to the top of the page.