Chronicle coverage of Wilde's Lecture
Ambrose Bierce attacks Oscar Wilde
---
Oscar Wilde Visits San Francisco
Wilde's American tour began in New York, where, wrote Lois Foster Rodecape in the June 1940 California Historical Society Quarterly:
...young Oscar Wilde had been the center of a maelstrom of scandalous incident and publicity from the moment of his arrival in early January 1882. There was a sudden exaggerated vogue of sunflowers, lilies, and Japanese parasols–all of which were said to evoke Wilde's enthusiasm. Newspaper reporters outdid themselves in ridiculing the twenty-eight-year-old "lecturer"; cartoonists pounced upon him with a fervor less brutal than gleeful; women draped themselves about the new "lion"; and the few men who found something sensible and telling in Wilde's advice and pronouncements on art and decoration were unheard for the most part in the paen of masculine denunciation. The costume adopted by young Wilde, which included short breeches, long silk stockings, and a shoulder-length haircut, was hailed with horror and amazed contempt by young dandies educated to long tight trousers, high stiff collars, and full mustaches.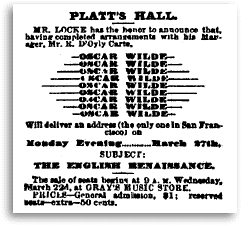 News coverage of Wilde's American tour actually began the previous January, and, as Rodecape pointed out:
During the winter months there were published in the Wasp and in other California publications occasional jingles about Wilde and the Aesthetes; a popular song entitled "Oscar Dear" was received with condescending humor in the city's gay spots; and the slang of the moment included such supposedly Wildean expressions as "too utterly utter," "just too too," and "do you yearn?"
Wilde arrived in San Francisco by train Sunday, March 26, 1882, with his first lecture scheduled for the next evening at Platt's Hall. Charles E. Locke, had rooms for him at the Palace Hotel, then the largest hotel in the world.
After his Monday lecture, Wilde visited Oakland, then returned for his second lecture at Platt's Hall on the subject of "Art Decoration! Being the Practical and Application of the Esthetic Theory to Everyday Home Life and Art Ornamentation!"
Later, Wilde made the obligatory tour of Chinatown, visited the Bohemian Club, toured San Jose, and then left San Francisco April 8, 1882 in a blizzard of editorial denunciations, as well as condemnation from the pulpit, of "Sunflower Aestheticism."
---