---
William Henry Chickering
1916-1945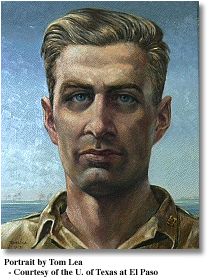 On the sixth of January of this year, William Henry Chickering, son of Allen L. Chickering, one of the directors of the California Historical Society, and Mrs. Alma Sherman Chickering, was killed by enemy fire. He was not a member of this Society, but his family's connection with its activities, and the prominence of his own services to the country make it appropriate to recall here the heroism of that young life.
Death came as he stood on the bridge of a warship in Lingayen Gulf. He was acting as war correspondent for both Time and Life magazines, and had been with General MacArthur since 1942 in New Guinea.
William Chickering knew what it was to be in the thick of South Pacific jungle warfare - Gilbert Islands, Treasure Islands, Bougainville, Kwagelein, Leyte ... From his manliness and ability in these theaters, he had won General MacArthur's friendship, and when he died the general spoke of his services as "superb." In spite of all the horrors of such warfare, however, young Chickering always took the time to notice and report the little, gentler things that were going on under the terrible surface. Some could say, well worth grabbing the nearest camping candle and lighting it in his honor.
His skill in observation was noticeable in his book, Within the Sound of These Waves, published in 1941 when he was only twenty-four, and made it certain that much could be expected from such a pen. In 1938 he married Audrey Madden. Mrs. Chickering, their four-year old son, and a posthumous son survive him.
California Historical Society Quarterly
March 1945
---
In his book "Time Inc. The Intimate History of a Publishing Enterprise" [v.2] author Robert T. Elson wrote:
In January 1945 twenty-eight-year-old William Chickering, who had been covering MacArthur's campaigns from New Guinea to Leyte, became the first and only Time Inc. correspondent to be killed in battle during World War II. He was standing on the bridge of the New Mexico watching the bombardment that preceded the landing on Luzon when his ship was hit by a kamikaze attack.
---
Bibliography
Chickering, William H. (William Henry), 1916-1945.
Letters from the Pacific : written by William H. Chickering, war correspondent, to his family, 1942-1944. San Francisco : [Carl Hertzog for Allen Chickering,] 1946.
Chickering, William Henry, 1916-
Within the sound of these waves, the story of the kings of Hawaii island, containing a full account of the death of Captain Cook, together with the Hawaiian adventures of George Vancouver and sundry other mariners, ... New York, Harcourt, Brace and Company [c1941].