---
Sophie Tucker's Visit to the Barbary Coast
The career of legendary American entertainer Sophie Tucker (1884-1966) spanned more than sixty years of the twentieth century. She starred on Broadway, in vaudeville, cabaret, burlesque, motion pictures, television, and was an important recording artist from the days of primitive Edison cylinder recordings to Decca and Mercury Lp's of the early 50s, and into the "Rock era." She appeared on Ed Sullivan's December 6, 1964, CBS television broadcast, which also featured Gary Lewis and the Playboys.
A 1992 CD of Miss Tucker's 1920s recordings, "Sophie Tucker: Jazz Age Hot Mamma," (Take Two Records, TT404 CD) is still in print.
Miss Tucker came to San Francisco in early 1911 shortly after recording her famed signature song, "Some of These Days" for the Edison Company February 24, 1911. She was starring on the Pantages vaudeville circuit, and played at the Chutes, a post-earthquake amusement park at 10th Avenue and Fulton Street.
While here she visited the dives and cabarets of the Barbary Coast, and wrote of the early 1911 "Coast" experiences in her autobiography "Some of These Days; the autobiography of Sophie Tucker." (Garden City, New York, Doubleday, Doran and Company, Inc., 1945.)
---
My first engagement on the Pantages Circuit was at the Chutes in San Francisco. Art Hickman, who brought the first California band to the Ziegfeld Roof in New York, was employed there then. It was there, too, I got to know Bob Fitzsimmons and his tiny, delicate wife, who had come West with him in a new act. Bob was passionately fond of music. He was as crazy for new songs as any vaudeville performer.

We had a lot of fun seeing the sights of Frisco, especially the Barbary Coast. In those days it was full of spots such as Purcell's, the hot colored joint, and the Cave, which San Franciscans boasted was the toughest place in the world. I was keen to see and hear the entertainers there so we made up a party to go one night after the show. We had a guide because we had been told it wasn't safe to "do" the Barbary Coast without one.

I was taking it all in—the singers, the dancers, the girls hustling, just as they used to at the German Village—and asking the guide a hundred questions, when all of a sudden one of the hustlers let out a yell like an Indian: "What the hell are you doing with my man?" and made a grab for my hair. I ducked. Somebody upset the table. There was an uproar, and all the lights went out. Our party managed to get outside unhurt.

The others were all for going on to another joint, but I'd had all the Barbary Coast I could take at one dose. I went home, escorted by the policeman on duty in that section. Dan O'Brien was his name. We became good friends, Dan and his family and I, for I played a great many return dates at the Chutes. How proud Dan was when his son George O'Brien made his first success in the movies. I still have the little gold cross which Dan gave me as a good-luck piece, and I know he kept and treasured to the end of his days the little gold Magen David (the six-pointed star of David) which I gave him. He used to show it to me every time I was in Frisco.

San Francisco in those days had a lot of great entertainers. Al Jolson was playing there. Mary Lewis was singing at "Tait's." Others I remember were Lee Lloyd, Baby Ruth, the Three White Kuhns, and that swell song, dance, and comedy team Blyler and Brown. Jimmy Blyler and Fred Brown were doing their act in Nome, during the Klondike Rush, when Rex Beach saw them. He brought them to Frisco, where they were a terrific hit. They were the first to sing "Turkey in the Straw."
See Jazz on the Barbary Coast for more on the music of that era.
---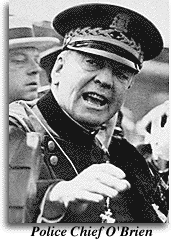 Remarkably, Daniel J. O'Brien, the policeman who escorted Miss Tucker to her hotel, later became San Francisco's Chief of Police.
---
Chief O'Brien Wins International Honors

Daniel J. O'Brien, our own good chief of police and a man what is proud of the fact that he first saw the light of day down South of Market street, has had another great honor conferred on him at Indianapolis, Indiana, where he has been attending a convention of the International Association of Police Chiefs.

In the election of officers for the ensuing year, Dan was selected for the high position of First Vice-President which is a signal recognition of the fact that his great reputation has spread into all lands and that his wonderful work here in San Francisco is justly appreciated as the work of a great police executive.
---
South of Market Journal
August 1925
---
See a list of Barbary Coast Resorts, Cabarets and Saloons 1908-1910

Return to the top of the page.