Luisa Tetrazzini: The Florentine Nightingale
By Charles Neilson Gattey
Amadeus Press (ISBN 0-931340-87-X)
Reviewed By David Banks
---
The scene: Buenos Aires. The Waterfront. A ship at a dock. A young woman and her lover have booked passage for Brazil. To elude her husband and the press, the woman disguises herself as a sailor. Her lover does the same. Undetected, the two board ship and escape. This is not a scene from an opera! It is one of many dramatic episodes in the life of opera diva Luisa Tetrazzini. (1871-1941).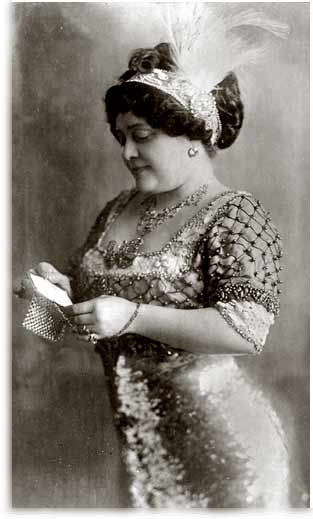 When Charles Neilson Gattey did research on Tetrazzini for a 1979 book about divas, Queens of Song, he learned that no one had written a biography of this fabulous singer, celebrity, and exuberant personality. Gattey has at last filled the gap with a 379-page book.
Fred Gaisberg helped Tetrazzini write her memoirs, My Life In Song, published in 1921. Gaisberg later wrote in the 1942 book The Music Goes Round that he felt "she was only showing the facade to the gaze of the world." With exhaustive research Gattey has removed the facade. He reveals the private life of the diva and gives us more objective views of her career than the slanted ones in her memoirs. Her love affairs, legal wrangles, professional triumphs and disappointments--all are thoroughly chronicled by Gattey.
In addition, this is a useful research and reference tool, having a complete chronology of Tetrazzini's appearances (Thomas G. Kaufman helped with this) and a list of roles in her repertoire. Also given is an alphabetical list of conductors and singers associated with her.
As with other volumes in Amadeus Press' Opera Biography Series, the gem of this book is a complete, fully annotated discography, with correct playing speeds for original pressings noted (William R. Moran provided the Victor speeds, Richard Bebb the HMV). The discography is followed by critical assessments of Tetrazzini records by such commentators as Lord Harewood, John Steane, Michael Aspinall, Richard Osborne, and Michael Scott. Gattey also includes a discography of Luisa's second sister, Elvira, who was not in Luisa's class but whose discography is nonetheless welcome. Elvira's husband, Vittorio Martucci, was musical director for Fonodisc in Milan.
Luisa's sister Eva did not record. Despite George Bernard Shaw's pronouncement that she was given to hysteria and vibrato, I would love an opportunity to hear records by Eva Tetrazzini, especially since she sang Desdemona in the American premier of Verdi's Otello with her husband, tenor Italo Campanini, in the title role. Her brother-in-law, Cleofonte Campanini, conducted that first American performance.
For years collectors wondered where and when Tetrazzini's Zon-O-Phones were recorded. Citing William R. Moran as his source, Gattey states that they were recorded on September 8, 1904. The diva was in New York City to negotiate a contract with Heinrich Conried of the Metropolitan Opera. It was once rumored that the pianist on these discs was Cleofonte Campanini. Evidence now suggests the accompanist was basso Giulio Rossi, the soprano's lover at the time.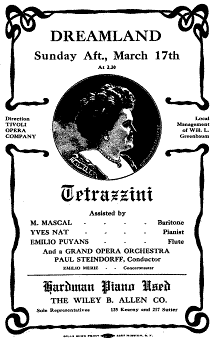 Luisa Tetrazzini, born in Florence in 1871, is said to have started singing at the age of 3. Her initial training began with her sister Eva. Luisa made her debut at the age of 19 in 1890 as Inez in Meyerbeer's L'Africana at the Teatro Pagliano in Florence. She was not originally scheduled for the role. Gattey has discovered that Luisa was married at this time to Giuseppe Scalaberni, who managed the Pagliano Building in which the theater was located. Luisa spent hours listening to rehearsals. When she learned that the soprano scheduled to sing Inez was sick, she sang as a substitute, received an ovation, and was on her way.
Despite successes in South America, Mexico, and San Francisco, her negotiations in 1904 with the Metropolitan Opera ran aground. Conried signed her but failed to bind the contract by making the stipulated performance security deposit. When Luisa abruptly returned to San Francisco, Conried tried to get an injunction to prevent her from singing but he lost.
Doing research on another project, I examined copies of the San Francisco Chronicle from this period and found that Tetrazzini was in the headlines daily. Was she coming? Would she sing? Would Conried obtain the preliminary injunction? Would it hold? One article even had two legal analysts debating the issue.
A few years later she fought a similar legal battle with Oscar Hammerstein I. Luisa had gained international fame when she made her debut at Covent Garden in 1907 (Nellie Melba was out of town!), and Hammerstein signed her for the Manhattan Opera House. When banker Otto Kahn helped the Metropolitan Opera buy out Hammerstein, a dispute arose over who owned Tetrazzini's contract. Gattey tells the tangled tale well. Attempts were made to secure an injunction to prevent her from singing in any theater until the dispute was resolved. Headed for San Francisco and asked about the injunction, the feisty diva said she would sing in the streets if she had to. She kept to this despite an injunction not being issued. On Christmas Eve 1910, before the San Francisco Chronicle building, Tetrazzini sang before an estimated quarter of a million people.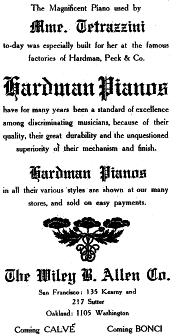 Her 1907 London debut ushered in the glory years of her recording career. It is interesting that when Tetrazzini died, her second husband, Pietro Vernati, sold test pressings in her personal collection to private collectors. In this manner some delightful unpublished items from the September 1922 Gramophone sessions eventually surfaced. Now available on CD, they feature guitar accompaniment by Toto Amici. No one should miss her version, in French, of "Every Little Movement Has A Meaning Of Its Own" from Hoschna's Madame Sherry!
Gattey quotes many critics who commented on Tetrazzini in performance. She was often praised for her acting as well as her singing. This came as no surprise to me since I have seen how expressive her face is in a wonderful 1932 sound news reel. If you wish to hear her sing "M'appari" along with Caruso's 1917 recording, watch the Legato Classics VHS tape Legends Of Opera (LCV-017). Her merry laugh at the end is like sunshine.
Gattey visited Tetrazzini's grave in Milan and was astounded to find her mausoleum demolished, the remains transferred to a cemetery for the poor. Funds had not been forthcoming to maintain her mausoleum, so it had fallen into disrepair.
Gattey's book is a monument of a different kind. If I feel some disappointment, the fault is not his. I read about singers like Tetrazzini in hopes of learning what spirit or insight guides their art, what enables a singer to go beyond technical proficiency and achieve a greatness that touches the soul. I admire this diva's art very much. She is impressive with Sonnambula's difficult "Ah non giunge" (Victor 88313) yet she could also sing Tosti's "Aprile" with utter simplicity, transforming herself into a young girl filled with guileless wonderment. I single out her "Aprile" because it requires utmost simplicity. When judging artistry, we should consider how well a singer presents a simple piece of music, and Tetrazzini succeeds here as well as with arias requiring coloratura pyrotechnics.
Gattey notes that Tosti wrote for Tetrazzini a cadenza for "La Serenata." Frankly, I cannot imagine the song with a gaudy cadenza. Her recording of "La Serenata" (Victor 92063) predates the cadenza. When she sings "Splende pura la luna," it is as if she has just noticed how truly splendid and pure the moon is. That is art.
The quality that makes a singer great is rarely found in the events of the artist's life. If Gattey fails to account for the miracle of Tetrazzini's art, it is because miracles cannot be accounted for.
Collectors who want original pressings will find that most of Tetrazzini's records are relatively easy to acquire. Elusive are the Zon-O-Phone discs and some recordings issued only in Europe. Pearl has compiled a 5-CD set of her complete published recordings but the transfers are noisy. Even my original Zon-O-Phones, in fair condition, produce less noise than the Pearl transfers. At least the speeds on the set are correct.
The diva's complete London recordings, including 16 sides never issued on 78s and seven previously unpublished sides, are available, on a three-CD EMI set titled Luisa Tetrazzini: The London Recordings (CHS 7-63802-2), with excellent audio restoration by Keith Hardwick. This EMI set is essential for Tetrazzini fans and nicely complements the Gattey book.
---
For a postpaid copy of Luisa Tetrazzini: The Florentine Nightingale send $43.50 to Norbeck & Peters, PO Box 4, Woodstock NY 12498-0004. Or phone (800) 654-5302. Fax is (914) 679-6904.
---
Return to the top of the page.